Well, I've joined another CAL over on the ville, this one should help me get those Knitted Dishcloths done. It's called Dishcloth Tuesday, and it's exactly what it sounds like. Each Tuesday a group of us are going to complete a dishcloth. This week I didn't do a knitted one, I found a great pattern for a
Pineapple Dishcloth
and simply had to try it out. Well here it is, my dishcloth Tuesday debut: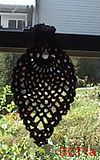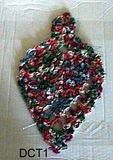 I wanted to show the detail a little more, so I hung it from the window latch near the computer. It's made from cotton I bought from the
Peaches n' Creme
web-site, the color is Painted Dessert. I LOVE this color, bought it in thread too.