Well, I finished the 2nd dishcloth in the Garden Dishcloths book, I made the Birdhouse, I'm really happy with how it turned out, and looking at this one right next to the Tulip I can see I'm getting better, my stitches are more consistent, these patterns are such great practice, and I'm having a lot of fun, the Sunflower is on my needles now, but I need to finish some crochet projects before I let myself really work on it.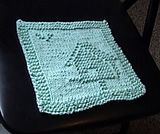 The last few weeks I've been working on items to send to a little boy named Casey, he has Epidermolysis Bullosa. I "met" his mom through a woman on Crochetville who also suffers from the disease. I don't understand all of it, but from what I have gathered this disease is the lack of an essential protein that binds our layers of skin together, so without this protein even small amounts of friction cause the formation of blisters and sores on the body. Most severe cases these sores even happen internally, on the esophagus just from eating. There is a REALLY exciting article
here
that discusses a clinical trial that the treatment was successful on a 25 month old boy, this is REALLY EXCITING, because until this there was no cure for this disease, and now there appears to be great hope for the future!!!
Well, I started talking to Beth (Casey's Mom) and she really wanted a stocking cap for Casey, so that she could get a picture of her boys in matching winter hats, so I made that pretty quick. She talked some about Zachary, and how selfless he is already at the age of 7, how kind he is to his brother, and how he doesn't show any jealousy or animosity, but is just a great big brother, and has really taken things in stride. I wanted to make sure when I sent the items for Casey that there was something special for Zachary, so I made him a blanket of his very own. I am still working on a couple scarves and a ball for Casey, but here is the cap and blanket (Jadyn is modeling the cap for me)
The colors are Red, Yellow, and Navy blue.. it was made with my Chophook, and used the Diagonal Hues pattern from CPC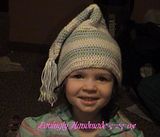 That's all for now, I'm currently working on a brown-tones comfortghan assembly for the women's ministry, and the blitz item this month is the Fireman bear going to SC. I'd like to get 5 of those done this month, I have about 90% of 1 done so far. I'm thinking about making all the small parts first then doing a mass assembly of the little guys later, it may go faster that way. I'll post pics when I have a full one done.