Well, I participated in two swaps in the last month, simultaneously.. crazy of me I know. Well, I must say I had so much fun doing the swaps, and I've already picked out a couple more to do this year, might even try to do the Secret Pals swap this fall... we'll see.
The first package I received was from LaVonne, she was partner for the scarf swap, this was so much fun making some girly scarves for her, and her package to me couldn't have been anymore perfect. It had 3 great scarves, and a selection of candy that included Caramel Cremes (oh yea baby!)
Then just today I was lucky enough to get my package from Theresa, she was the fantastic partner I was given for the Whole Kit and Kaboodle Swap. She asked what sort of things I like to make, and I gave her a few ideas and she went with an AMAZING pattern book for Dishcloths, The Garden of Dishcloths to Knit, these dishcloths are so cool! I've been looking at this book for a while, and just never got around to getting it. Well, now I have the book, the needles I need to make the patterns, and enough cotton to make EVERY SINGLE ONE!!!! Theresa also made me this great wrap! It's a beautiful pinkish/purple color, and SOO soft, I just love it!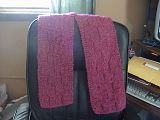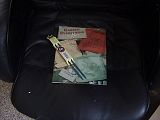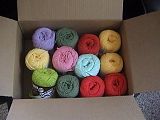 The last couple weeks I've also been overrun with 6" squares, as part of the 2008 Charity Blitz on Crochetville, the month of May was spent making 6" squares for the Kingston SDA Women's Ministry, for our use in making comfortghans for people in our area. Look to the right of my blog under the charity blitz to see everyone who has sent me squares and the running total, we're at over 600 already and I'm still waiting on about 6 packages!!! It's been very uplifting for me to be involved in this, and my poor mailman probably can't wait until it's over.