So, I sent my hubby out to check the mail today, and he brought me this: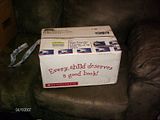 And so I opened it up and find a unch of brown paper: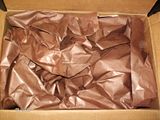 Pull away the paper and you get:
Well how nice!!! Look at all the beautiful stuff, starting with this:
It's a card that lets me know that Pixiedust has been my unknown pal! Thanks Tiffany, you've been a great sp!!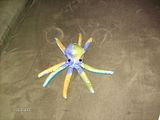 First off, I LOVE stuffies!!!! And secondly, I REALLY REALLY love the ones that Kristie designs, so these cute little guys are just perfect!!!! I LOVE them, time to pull out another shelf and hang these guys up!!!
So now, let's look at some goodies that I can make into something wonderful some hooks and a magnet:
Some thread: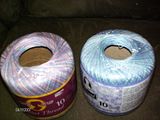 a bookmark, so cute little ladybug: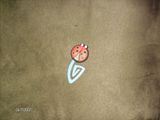 Two GREAT, and I mean GREAT books! One is a PK doily pattern book, The Best of Patricia Kristofferson, and then How to Crochet the Celtic Way!!!! If you could see me bouncing, you'd laugh at me!
And of course some chocolate, caramel eggs from cadbury:
which my husband made quick work in claiming for himself, lol!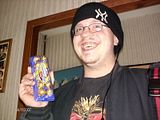 And like I said before, she has thought of my daughters with EVERY package, and this time is no different: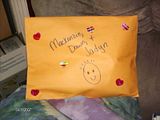 A wonderful book of how to make puppets based on African Animals, and some beads and string, we are talking about HOURS of FUN!!!!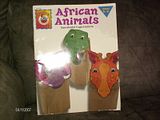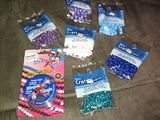 I have had so much fun being Tiffany's pal! She has been the best! Every week she sent me the best hallmark e-cards letting me know something else we have in common. I have had a blast! Thanks soooooo much!!!!