I received some squares WAY BACK WHEN from Pineknott over on crochetville, and FINALLY they have become the comfortghan they were destined to be. Have a look...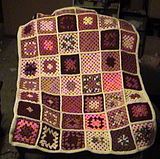 I've also been working my partners kaboodle, and made another girly scarf that I'm hoping I can use in the Summer Scarf swap... but can't show those pictures because my partner and prospective partner should see the finished product first!
OOOO, and I won the auction on ebay for the book with The Cathedral Rose Window afghan pattern in it, and I'm bidding on a Jimbo Hook that I'm hoping to win, I'll find out Monday for sure... man I'd LOVE a Jimbo hook.
Speaking of Jimbo, I designed something today: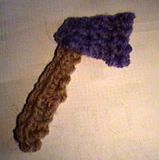 It's based on the Axe Ataxia button, and I'm going to put it on a purse that I'm probably going to make this week, yay!