Well today I received my Chophook from Jim. It's really neat, I made the beginning of a granny square as soon as I opened it, I wanted to see how it felt to work with it. It's really smooth and the yarn glides nicely along it.
Here are some pictures...
It came beautifully wrapped in red felt...
And here it is: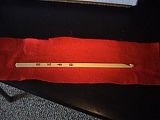 If you want a Chophook of your own here is where you can go to get one
Chophook
You can help a really worthy cause and get a great tool to crochet with all at the same time.