Thought I should put up some new pictures. These were taken over the last couple days, just some shots of the family. First is Zach with girls on the couch, he had been just relaxing and watching t.v when Kenzie decided to snuggle, then jadyn jumped on and Dawn just couldn't be left out. The bottom two are mackenzie and dawn, they both picked me a flower from the Magnolia tree in the backyard today, they are too sweet!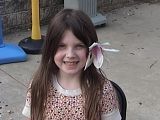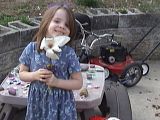 Then here are some pictures of recent deliveries, my joann's order and my shop caron order. Joann's really had great prices on everything, and the two books are books I've wanted for a while now, and the Crochet Lite hooks I've had my eye on, but didn't want to spend $7 per hook, got em sale nearly 2 for 1 so couldn't resist anymore. The Peach and Cream yarn is already nearly gone, it was used to make a lapghan for my husbands grandma, and plans are in place for the other yarn too.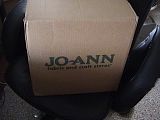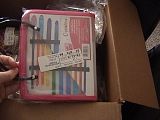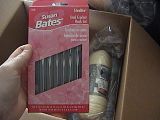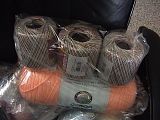 Then from shopcaron.com I bought 5- 1lb mill ends bags, it's luck of the draw with what you get, you know it's caron yarn but you can't choose type or color. Of the 5 lbs I got 3 lbs of simply soft (2 white and 1 purplish) and a yellow pounder, and the teal/blue is a rough coarse yarn, I'm thinking rug yarn, I have a darker blue and gray of the same type that I bought a while back at ac moore, and i'm thinking of making a welcome mat type thing for the mud room with it.