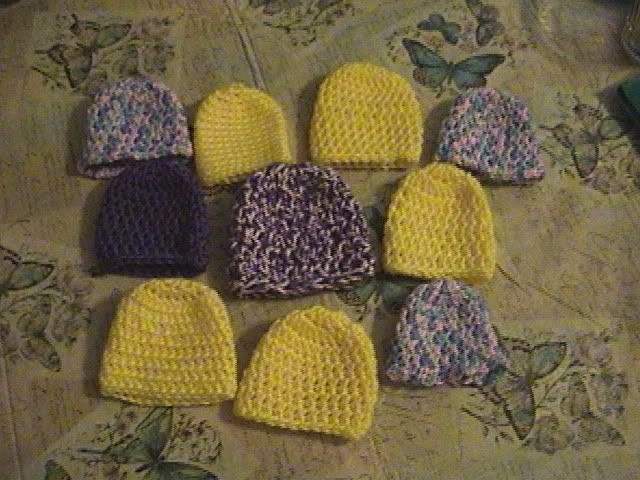 Well, I have completed 10 premie hats for bitybabynurse. They work up really fast, but it's sad to work on. I try to put warm strong thoughts into the yarn as I work on each one, and think of the little person who will be wearing the hat. I pray for the babies that they grow strong and have the ability to go home with their parents, and one day look at the little hat amazed that they were ever that small. I pray for the mothers and fathers who have to visit their little loves in the NICU, that they will have strength and love to get through what must be a rough time. I can't relate, my smallest child was 8lb 8ozs at birth, so it's difficult to picture these tiny hats fitting a baby. But here they are, may they keep the heads of some very special babies toasty warm!
The rest of my evening will be spent working on bereavement blankets for the bltz charity of the month. If a small break is needed I also have squares to make for Sandra's comfort ghan. I've ound some great square patterns inthe 63 squares books. So there is plenty of variation on those. The Sabbath is always dedicated Charity crochet time, it's a nice way to end what is usally a very hectic week.
Off to prepare dinner, and finish getting food for potluck together. Have a great weekend!!