Well, I had my major yarn splurge late last week, and it all showed up on my door today! I'm so excited!!! So what did I get??
Below are 8 skeins of Honolulu Homespun, 3 of Calypso, and 2 of mission, as well as 4 skeins of teal soft boucle by bernat, 2 skeins of purple polarspun and 3 skeins of hot pink polarspun (lion brand)
Here we have 4 skeins of Peach Bernat Soft Boucle, and 8 of Strawberry in the same brand
Below is the thrid of my skeins of the purple polarspin, and 3 skeins of tutti frutti polarspun, 6 skeins each of TLC Heathers in French Lavendar and Teal, 2 violet, 1 peach, and 2 ecru skeins of Lily Elite Cotton, and then a skein of greens with blue and brownish tweed of Plymouth Encore DK weight.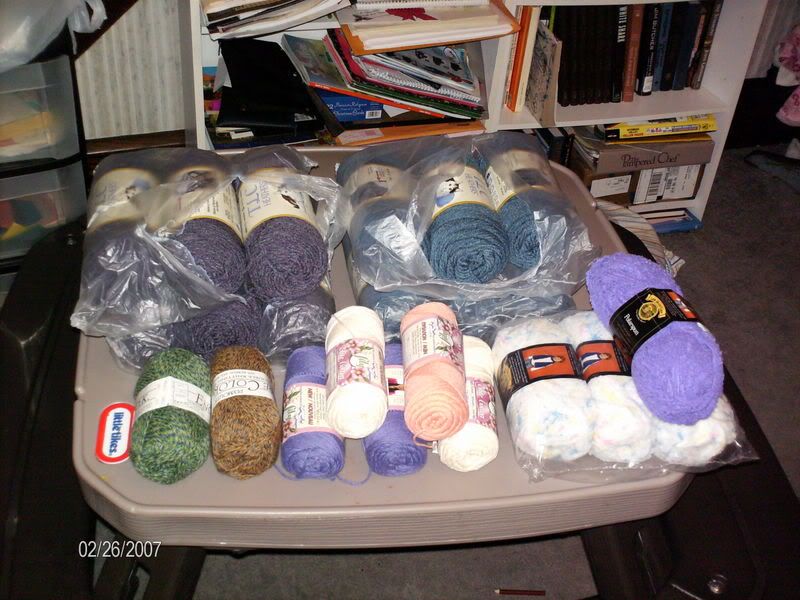 I ordered all of this from the
Smiley's Yarn Sale
. They had great prices, and a flat rate shipping. So even after the shipping I still paid significantly less than I would have otherwise. And most of these yarns I don't buy because I'm a cheap skate with yarn, with the 3 kids I can always find something better to spend my money on, but this was my annual splurge, and I'm very pleased with it! Now I need to make room for it.... better get my hook going!!!